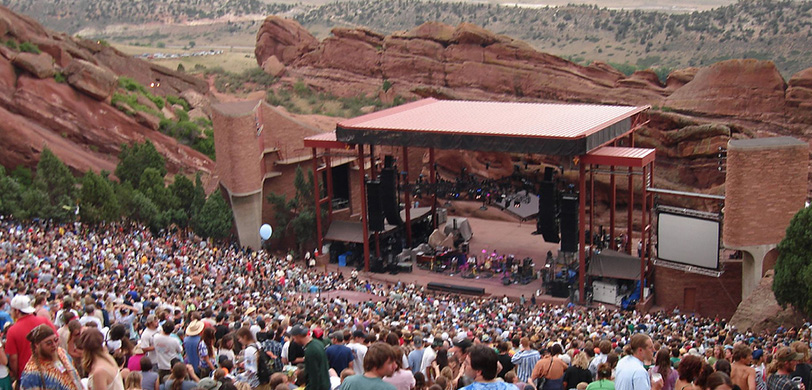 Red Rocks Concert Party Bus
Are you looking for a fun reason to get your group of friends together on a party bus?  Why not take a party bus to a concert at Red Rocks?
Colorado is home to one of the best outdoor amphitheaters in the nation.  Red Rocks started hosting concerts in the early 1900's.  The acoustics are enhanced by the natural large rock cutouts that surround the stage.  Just about every major artist has made a trip to Red Rocks which sits about 10 miles west of Denver.
Today you will find that they host almost every genre of music each summer, but that wasn't always the case.  Rock 'n Roll music was actually banned at the venue after a Jethro Toll concert got out of control in 1971.  After 5 years and a lawsuit, the courts found that it was unfair for the City of Denver to deny permits to rock concerts at Red Rocks Amphitheater.
Over the years the nearby neighbors have also exhibited their love-hate relationship with the amphitheater.  Any time you get 10,000 rowdy fans together there will surely be some problems.  Traffic, parking, trash, and noise has been an issue over the years and has resulted in various curfew arrangements that are still in place today that prevent artists from going over their intended time slot.
Traffic is just one of the reasons we suggest you take a party bus to Red Rocks for concerts and events.  Here are some more...
Your group won't have to worry about parking or sticking together
Ensure everyone has a safe ride home after the event
The group can drink and socialize on the way to and from the concert
Uber rides and taxi cabs can be hard to find after the event and of limited supply
Jackets, purses, alcohol, snacks, and other personal items can be left on the bus while attending the event
Our sound and light system on the buses gets the party going!
So if you are planning to see a show at Red Rocks, contact us to help with your group transportation to and from the event.
Red Rocks Amphlitheater
18300 W Alameda Pkwy
Morrison, CO 80465
www.redrocksonline.com